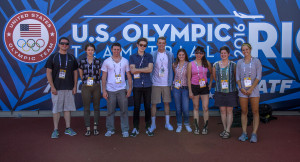 My spring term J408 class, Sports Bureau, covers all of the major track and field events at Hayward Field, including the Prefontaine Classic and the NCAA Division I Track and Field Championships. This is obviously a sports journalism class, but more broadly it is a class in advanced beat reporting.
I'm basically an Associated Press bureau chief, and the students are the reporters, but this is more than a supervised freelance gig. I've built in metacognitive assignments, and those combined with the one-on-one feedback make this an intense learning experience, which I detailed for the industry publication MediaShift.
We do publish. Frequently. In four terms, students have published 443 stories. In addition to our website, we've covered track and field for 31 professional publications, 27 of which have paid students freelance rates. Our work has appeared in major metros such as the Arizona Republic, Houston Chronicle, Tampa Bay Times and The Miami Herald; sport-specific publications including Runners World Online; and community newspapers from coast to coast.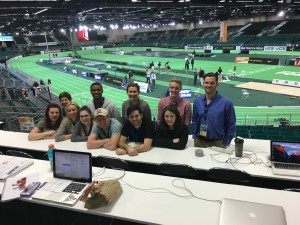 During the 2016 Olympic Trials, eight students took the class and wrote 84 stories in 11 days. Seventeen professional publications used our stories; 13 of those outlets paid freelance rates.
Class alumni have gone on to intern or work for Sports Illustrated, the Dallas Morning News, MLB.com, Turner Sports and ESPN.
---